Activists trying to prevent exploratory drilling say they will not be defeated after police clear camp and arrest nine people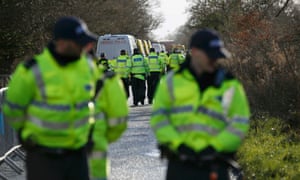 Protesters evicted from the UK's longest-running anti-fracking camp have responded defiantly, saying they will not be defeated.
Activists had built fortified tunnels, treehouses and a moat, months after the high court ordered them to leave so drilling could begin.
On Tuesday night, however, police cleared the camp in Upton, Cheshire, and arrested nine people. Two others were given a section 35 direction to leave the area, which bars them from returning for 48 hours.
Matt Bryan, a Labour councillor for Cheshire West, was one of the nine people arrested after he climbed on to a digger in a bid to delay the eviction because he believed activists were trapped underground.
"It's a miracle nobody was killed," said Bryan whose ward includes the camp. "As soon as the police advised me that the appropriate measures had been taken, I removed myself and climbed down from the loader, at which point they arrested me for obstructing a police officer."
The site has been leased by the fracking company IGas Energy, which has permission to begin exploratory drilling in the area.
It has a deadline of May to start work and protesters had hoped to prevent staff accessing the site until it expired. They locked themselves underground and high up on unstable structures in an effort to make the eviction as long and costly as possible.
Other activists said they would not be defeated despite a police cordon being placed around the site. Anna Davis, 32, said: "It was really quite sad when the camp finally came to an end, but we will not be defeated and we are going to keep up the pressure. A visible opposition will remain at either end of the cordon."
Advertisement
Cheshire police said: "High court officials attended the site to carry out an eviction process. There are currently no protesters at the site. Previously, an order of possession had been served by high court enforcement officers on the site. The enforcement officers had been instructed to enforce the writ on behalf of the court."
The camp had been continuously occupied since April 2014, and was extensively fortified after IGas was given a possession order in November. A protester told the BBC earlier this month that the aim was to instigate a "game of mousetrap" when the bailiffs arrived.
An IGas spokesperson said: "While we respect the right to peaceful protest, these protesters are trespassing as determined by the high court. We do not condone any activity that is illegal."