Details unveiled of deal signed between state-owned companies from China and France to build world's most expensive plant on UK soil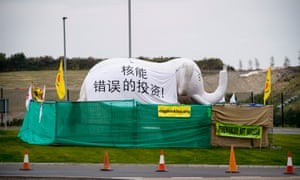 China will take a one-third stake in a French-led project to build a new £24bn nuclear power station in the UK at Hinkley Point in Somerset, expected to be the most expensive ever built.
The deal was signed between state-owned companies from China and France just hours before the Chinese president, Xi Jinping , arrived in London for a state visit, and is due to be announced on Wednesday.
It will lead to a final investment decision – the point of no return – by the end of 2015, according to the Financial Times.
The companies – France's EDF and China General Nuclear Power Corporation – will be the only investors, having failed to attract others. The new completion date for the two reactors at Hinkley Point is 2025, eight years later than first suggested.
The deal is strongly backed by the chancellor, George Osborne. The government believes the new plant, which would deliver 7% of the UK's electricity, represents good value for low-carbon electricity which, barring problems, is always on.
The plant has been promised £92 per megawatt hour (MWh) for 35 years, double today's average wholesale electricity price, with any shortfall being paid by consumers via household energy bills. Hinkley Point will also be backed by up to £17bn of UK government loan guarantees.
The deal signed this week is also expected to mention Chinese involvement on additional nuclear plants at Sizewell in Suffolk and Bradwell in Essex. China hopes to build 110 nuclear power plants at home and wants to use its own designs at Bradwell as a showcase to help it sell its technology further afield.
Advertisement
But the nuclear push has many critics over its cost, the time it takes to build and the possible threats to the UK's national security of having China in control of a plant on UK soil. Osborne's father-in-law, former energy minister Lord Howell, said the project was "one of the worst deals ever" for British consumers and industry.
Howell, and others, have warned the reactor design planned for Hinkley C has never been completed successfully, pointing to huge cost and time overruns at EDF's projects at Flamanville in France and Olkiluoto in Finland .
EDF needs the Chinese investment as it is burdened with high levels of debt and is expected to sell €10bn of assets in the next five years, according to the Financial Times. Earlier in October, two of the world's biggest ratings agencies warned the company it faced credit-rating downgrades if Hinkley Point goes ahead.
A Greenpeace poll this week showed 29% of the UK public supports the Hinkley project, with 34% against it.
The Chinese president is beginning his first day of engagements on his four-day visit to the UK aimed at cementing economic ties
However, the Institution of Mechanical Engineers have welcomed the Hinkley plan. "Nuclear is set to play a central and vital role in the UK's energy future," said the IME's Jenifer Baxter. "Although the financial costs of nuclear power seem high, this power station will provide and modernise the diversification we so badly need in ensuring the UK's lights stay on."