James Hansen, Michael Mann and Kerry Emanuel among more than 100 researchers voicing concern over firm's 'complicity in climate denial'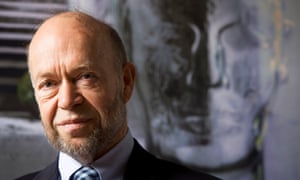 Leading researchers have called on the world's largest association of earth and space scientists to reject sponsorship from ExxonMobil, because of the oil company's record of funding climate denial.
In a letter made available to the Guardian, climate scientists James Hansen (formerly of Nasa), Michael Mann (Penn State), Kerry Emanuel (MIT) and more than 100 other researchers said they were deeply troubled by the "well-documented complicity of ExxonMobil in climate denial and misinformation".
The scientists urged the American Geophysical Union to reject funding from Exxon, as a matter of scientific integrity. The AGU's annual meetings are among the largest of their kind, drawing about 25,000 scientists.
Exxon is under criminal investigation in New York and California for misleading investors and the public about the dangers of climate change.
The Guardian, Inside Climate News and the Los Angeles Times reported last year that the oil company knew about climate risks and factored them into planning as early as the 1970s – but continued to fund organisations rejecting established science well into the 2000s.
"In part [thanks] to Exxon, the American public remains confused and polarized about climate change," the letter said. "And thanks in part to Exxon, climate science­-denying members of Congress and lobby groups operating at the state level remain a major obstacle to US efforts to mitigate climate change."
The letter said that history should disqualify Exxon as a sponsor, because of AGU rules barring financial ties to scientific disinformation.
About 4,000 AGU members will gather in New Orleans on Monday for an oceans meeting.
The AGU said in a blogpost that it would review Exxon's current activities, and take up the issue at a board meeting in April. Last year, the association decided there was no reason to cut financial connections with the oil company.
Exxon said news reporting about it's activities was "inaccurate and deliberately misleading".
"We reject allegations that ExxonMobil suppressed climate change research," a spokesman said in an emailed statement. "This is an inaccurate distortion of ExxonMobil's nearly 40-year history of climate research that was conducted publicly in conjunction with the Department of Energy, academics and the UN Intergovernmental Panel on Climate Change."
Advertisement
In a shift of tactics, campaigners are now working to expose the fossil fuel companies responsible for climate change and propping up climate-denial and corporate lobby groups opposing policies such as cutting greenhouse gas emissions.
Those efforts have gathered pace over the last year as more details emerge about how Exxon reportedly concealed from the public evidence it had been gathering from its own scientists.
"We were so struck by the recent revelations – how they covered up the climate science and how they were being investigated by the New York and California attorney generals," said Ploy Achakulwisut, a PhD candidate in atmospheric chemistry at Harvard University who is one of the organisers of the petition.
Organisers were disturbed to see Exxon listed among the sponsors of the earth and space scientists' most recent gathering in San Francisco.
"It seems to me like an appropriately clear case for the scientific community to stand up and reject what amounts to greenwashing for Exxon," said Ben Scandella, a PhD candidate in environmental science at MIT and another of the organisers.
"By accepting that sponsorship, the AGU gives up the ability to call out Exxon for their climate science disinformation activities.
"For me, personally, it is disconcerting to learn that a company knew one thing and told the world something completely different, and I imagine a lot of scientists are bothered by the idea that our research would be distorted for the sake of obstructing legislation on controlling carbon emissions."
This article was updated on Monday 22 January 2015, to include comment from the AGU and Exxon.