Prime minister rejects suggestion by liaison committee that government is failing in its approach to green energy, climate change and flooding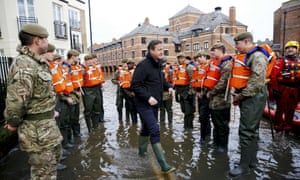 David Cameron has defended his government's record on the environment and climate change, saying suggestions of backsliding are "total and utter nonsense". The prime minister also told the liaison committee, made up of MPs who chair select committees, that the government needs to do "more of everything" to deal with the flooding that has repeatedly hit the UK in recent years.
Cameron, who pledged in 2010 to lead the "greenest government ever", has faced concerted criticism over a series of reversals to green policies, including cuts to renewable energy subsidies and energy efficiency programmes. In November, the government cancelled its £1bn competition for carbon capture and storage (CCS) technology, despite the project being in the Conservative party's election manifesto.
Cameron said that spending on low-carbon energy was set to double to £11bn in this parliament and that there had been an "absolute revolution in renewable energy" during his premiership, with 98% of solar energy installed since 2010. Subsidies for solar power will be slashed this week, but Cameron said: "You do have to think as prime minister that every penny you put in is a penny on energy bills."
The SNP's Angus MacNeil, chair of the energy and climate committee, challenged this, saying onshore wind was the cheapest clean energy, but was being drastically restricted by the government.
Cameron told the liaison committee in December 2014 that CCS, which traps CO2 from coal and gas power plants and buries it, was "absolutely crucial if we are going to decarbonise effectively". But he defended the scrapping of the £1bn policy, which was designed to help develop commercial-scale CCS, saying, "The economics are not working at the moment." This was contradicted by US energy secretary Ernest Moniz, on 7 January, who tweeted: "Carbon capture is critical for solving climate change. And it's working."
Advertisement
The prime minister highlighted the UK's pioneering Climate Change Act and the carbon budgets it sets for the nation, and said: "We are more than meeting the targets." However, a leaked letter in November revealed that the UK was not on track to meet an EU target for green energy in 2020. Furthermore, experts have argued, the government's renewed dash for gas, including fracking, without CCS will make meeting future carbon targets extremely difficult.
Tidal power has been promoted by chancellor George Osborne, who signalled support for a project in Swansea Bay. But Cameron poured cold water on the technology, saying that the current proposals were too expensive: "We have not seen any proposals coming forward that would would beat the [subsidy] strike price."
Friends of the Earth chief executive Craig Bennett said: "If dismantling a dozen green policies and putting 19,000 solar workers on notice isn't 'backsliding on green commitments', I don't know what is."
Cameron was challenged on flooding by Huw Irranca-Davies, chair of the environment audit committee, who quoted one expert stating that the UK's "current approach to flooding was not only inadequate, but has no likelihood of ever being adequate". Cameron cut flood defence spending in 2010, only raising it after floods hit later, and has been repeatedly warned of the UK's rising risk of floods.
"On flooding, there is no doubt we need to do more," Cameron said. "We've seen what are called one-in-100-year events, or one-in-200-year events, and they happened in 2007, 2013, 2015, and the country wants us to do more, and we will do more."
Advertisement
The controversial issue of river dredging was raised by Neil Parish, chair of the environment, food and rural affairs committee, who praised Cameron for restarting dredging on the Somerset Levels.
The government is going to allow farmers to dredge ditches without securing permission from the Environment Agency, but experts have warned of the risk of faster-flowing rivers rising more quickly and increasing the risk of flood to towns and villages downstream.
Mark Lloyd, chief executive of the Angling Trust, said recently: "It is scandalous that the government has hidden from public view the advice of its own experts on the dangers of unregulated dredging and ignored the findings of the study into the pilot dredging projects. The evidence shows that the best way to reduce the risk of flooding is to manage land upstream to reduce the flow of water and soil off fields."
Cameron said a suggestion from Parish that farmers were given more incentive to store water on their land during periods of high rainfall made "very good sense".
The prime minister recounted an anecdote from the village of Kelmscott in his constituency when he visited a site where farmers were being sued by the EA for dredging without permission. Cameron said the EA was worried that some of the habitat of the water vole might have been destroyed. "At that moment, two water voles appeared on the river bank, almost in conversation, and in my mind, at that moment, the argument was settled," he said.