In 1913, poet Edward Thomas cycled from London to Somerset to "meet the spring". The vivid account of his journey, In Pursuit of Spring, was published the following year. Thomas died on the western front in 1917.
More than 100 years later, his nature classic is being republished by Little Toller, with previously unseen photographs of his journey offering us a glimpse of England before the first world war.
Adrian Sheratt travelled to the locations of these pictures to photograph what they look like today. Click on the blue buttons to see the difference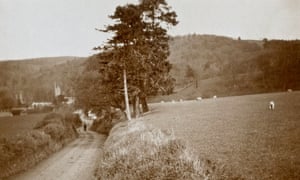 Research and editing by Eric Hilaire
Shares
4
"On the journey from London to Somerset that became In Pursuit of Spring, Edward Thomas took many photographs of the churches, farmyards, cottages, lanes, fields and hedgerows he passed along the way," writes Alexandra Harris in the foreword to the republished edition. "Published in a book for the first time, these images enrich the original text by offering us a glimpse of England before the first world war and give us rare insight into what drew the poet's eye as he wandered the byways and highways westward.
"The photographs are part of a larger Edward Thomas collection looked after by the Special Collections and Archives team at Cardiff University, having been donated to the university by the Thomas family in the 1970s.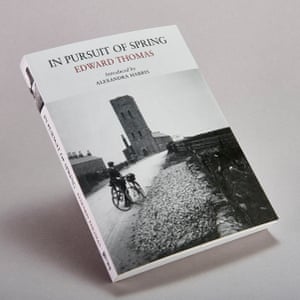 "Along with the 40 photographs Little Toller have selected for this new edition, the university holds an additional 468 photographs, 17 negatives, two daguerreotypes, six paintings and 966 letters by Edward Thomas written to various family members and friends. There are also original manuscripts and typescript poems, with some 323 drafts of 150 poems written between 1898 and 1917, including 11 scores of poems set to music, one prose manuscript, his school reports, nine notebooks containing press cuttings, flower pressings and fragments of prose, and a wicker basket containing his watch, tobacco box, a badge, button, lavender bag, clay pipes, scarves, wallet and visiting cards."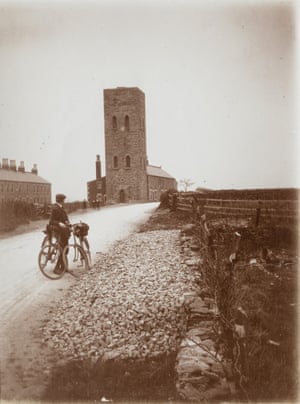 The Observer review, 26 April 1914, In Pursuit of Spring by Edward Thomas (Nelson.) 5s. net.
Most of us are content to wait more or less patiently for the coming of Spring, and to fête her coming by as long a tramp as possible in the country. This year she peeped out in February, and coldly wept through March, and in April burst upon us in all her dancing splendour, so that old men have shaken their heads and declared that there never was such a Spring. She has stirred in us more than ever her own aspiration of life; even we, who have been but waiting for her advent, have answered her call to now life so that we have grudged our limitations, longed for powers of work and growth not yet developed among men.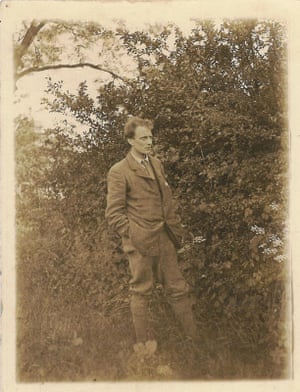 But Mr. Thomas, in the year of his book, could not quietly wait for Spring's coming. He had to be up and out after her, to meet her on her way, to welcome her. He did not go to the South of France in a "train de Luxe," following fashion rather than the Spring. He did a better thing than that, jollier if less luxurious, and one which proves the sincerity of his quest. He got out his bicycle and pedalled his keen way from London to Bridgwater, through Guildford to Dunbridge, over Salisbury Plain to Trowbridge, Shepton Mallet and Bridgwater, where he found Winter's grave and Spring:
"By the side of the road were the first blue-bells and cowslips. They were not growing there, but some child had gathered them below at Stowey or Durleigh, and then, getting tired of them, bad dropped them. They were beginning to wilt, but they lay upon the grave of Winter. I was quite sure of that. Winter may rise up through mould alive with violets and primroses and daffodils, but when cowslips and bluebells have grown over his grave he cannot rise again: ho is dead and rotten, and from his ashes the blossoms are springing. Therefore I was very glad to ace them."
And he was right to be glad, whatever old men may say who can remember snow in June. He had set out on a good pilgrimage, on a worthy quest, and he had achieved it —
"Thus I leapt over April and into May, as I sat in the sun on the north side of Cothelstone Hill on the 28th of March, the last day of my journey westward to find the Spring."
Mr. Thomas tells his adventures of mind and body on his journey; and a very pleasant wind-swept book the telling makes. As he passes Box Hill, he remembers Meredith and his love of earth ; how " he was not so much an admirer and lover of Nature, like other poets, as a part of her, one of her most splendid creatures, fit to be ranked with the white-beam, the lark, and the south-west wind." And he thinks of other poets and writers, as be passes the places where they lived, quite naturally as a man of letters should : of George Bourne, of W. H. Hudson, of Hardy, of Barnes and others, and his thoughts on them are just and sincere as are his thoughts on the weather and the inns and the beauty of the country and the character of the people be meets. All are woven together in a fresh and delightful book, which every lover of poetry and the open air and honest writing will appreciate.
• Edward Thomas photos courtesy of © The Estate of Edward Thomas, Courtesy of Special Collections and Archives, Cardiff University.