Supermarket's test of customer support for cosmetically imperfect vegetables fails to convince chef, whose new BBC series highlights food waste in Britain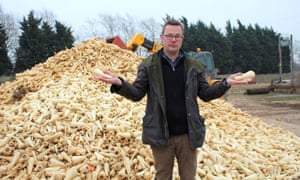 Supermarket Morrisons' efforts to encourage customers to buy wonkier-shaped vegetables have been branded "pathetic" by the chef Hugh Fearnley-Whittingstall.
The BBC show Hugh's War on Waste last week saw the broadcaster giving away oversized and curvy parsnips outside a Morrisons branch in Wimbledon, to highlight the food waste he says is caused by supermarkets' excessively exacting cosmetic standards.
In response the supermarket undertook a trial of selling wonky courgettes alongside so-called 'class one' courgettes, but found the 'ugly' ones sold much more slowly.
"When you see the frankly pathetic little trial that Morrisons did with those courgettes, where they put some really substandard squashy ended ones in one pile next to some gleaming perfect ones at the same price, would you believe, people went for the really lovely ones? That's not what we're asking supermarkets to do," Fearnley-Whittingstall told the Guardian in an interview.
Morrisons rejected the chef's criticism, saying some of the wonkier veg were only older because there were selling more slowly than the normal ones. The wonkier veg were sold at the same price as the class one courgettes, and labelled class two.
A Morrisons' spokesman said customers had "voted with their feet", and the only wonky veg that sold well in a trial in its Milton Keynes store was when bagged up and sold at a reduced price as a 'value' option. However the company told the Guardian that before the end of the year it would begin permanently selling lines of wonky potatoes, carrots, onions and parsnips at cheaper-than-normal prices across its stores.
Fearnley-Whittingstall was also critical of supermarkets' increasing use of anaerobic digestion (AD), where their food waste is sent to plants to capture the gas released as it breaks down, for use as electricity. Sainsbury's has previously said it's the biggest user of AD in the UK.
Advertisement
"When we know there are hungry people, the idea of making electricity out of food when we could be feeding people, feels wrong. But actually scientifically it's the wrong thing to do, because the energy recovery from AD is pathetic, compared to the energy recovered by people eating food."
He said that while AD was better than landfill and did have a place – for food scrapped off plates in the catering industry and an inevitable small amount of waste at supermarkets – it was being used as a way to justify the overproduction of food.
"You're in a dangerous situation where overproduction of food is something that, if it suits them, big corporations can do almost with gay abandon, without fear of consequence."
Sainsbury's said that it only sent food to AD after it had exhausted other options, such as donating it to to charities or using it as an animal feed. It said that, for example, less than 2% of bread is sent to AD.
Fearnley-Whittingstall admitted that the challenge of tackling food waste was a bigger one than his previous 'Fish Fight' series. He said the government had not helped by slashing the budget for its food waste agency in half.
"Of course I think they were wrong to slash the budget on communicating about this problem. This government's done one bizarre thing after another recently. Slashing all the tariffs for renewable energy and putting out a big red carpet for China to build nuclear power stations all over the country, I don't think that's the smartest thing they've done either."
But the chef said that consumers had to take responsibility for food waste too, and said some people took "use-by" dates too literally.
Advertisement
"We've lost the sense of responsibility for our actions, and of trusting our own resources, our nose and our common sense."
He said he did not want use-by labels scrapped but for people to understand them better. "Use-by sounds like an order. It sounds like an instruction. It makes people think that at midnight on the 29th, something's going to go from a perfectly safe food to a deadly poison, and of course it isn't like that."
Fearnley-Whittingstall said that while he was very frugal and wasted little food at home, his one food waste vice was apples.
"My guilty secret is that I can't eat an apple core. My wife can eat a whole apple and then she eats the core. She bites one end off and then the other, and then the middle, and is left with a tiny stalk in her hand. I can now bite it down to a pencil-sized core."