From food to clothes, extreme weather events are affecting key industries. As we kick off a new series on extreme weather – tell us what we should cover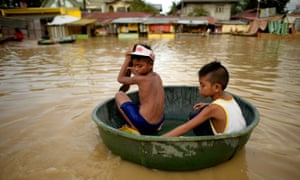 Climate change is transforming weather patterns around the world. From Indonesia's devastating forest fires at the end of last year, exacerbated by El Niño, to aid agencies calling for urgent action as droughts and floods trigger widespread food shortages in Africa, Asia and the Caribbean, it's in the developing world where the impacts are most felt.
In our new extreme weather hub, we'll be digging into what's happening in some of the countries hardest hit by extreme weather events: from micro-insurance schemes in India to climate change lawsuits in Vanuatu and Peru. Our aim? To look at the role businesses and financial institutions are having (or should have) in building resilience and helping prevent and mitigate the effects.
Want to suggest ideas for topics you think we should investigate? Fill in the form below or email tess.riley@theguardian.com with "extreme weather series" in the subject line.