Clinton's first climate change policy pitch – for renewables to provide 33% of the nation's electricity by 2027 – is bold, but the US must look beyond solar for a clean energy revolution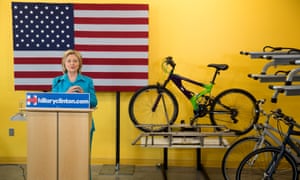 On Sunday, Hillary Clinton took a first swing at the many-headed carbon hydra. By the end of her first term, she said, the US would have seven times more solar energy capacity than it does today. And by 2027, renewable energy would supply a third of the nation's electricity.
Clinton's announcement, which the campaign said would be the first of many on climate change from the presidential hopeful, extends the carbon-saving ambition in a significant sector of the economy. Burning fossil fuels for electricity accounts for 31% of US greenhouse gas emissions. One estimate found Clinton's 33% renewable target could slice another 4% off the US's existing pledge to cut emissions by 26-28% by 2025.
Bloomberg New Energy Finance's Americas chief, Ethan Zindler, said the ambition was high, but within reach. "It appears to be on the upper end but it's entirely doable given the rapidly improving economics of renewables generally and solar particularly."
In 2015, solar photovoltaic installations are forecast to rise by 27%, according to the Solar Energy Industries Association (SEIA). This rise has been aided by the soon-to-expire solar investment tax credit (ITC), which the industry said Clinton will have to revive.
"Clinton's ambitious goal for solar is only possible if solar continues its impressive trajectory. SEIA is working to extend the solar ITC and remove statewide barriers that inhibit the growth of solar," said SEIA president and CEO, Rhone Resch.