President's comments come after Zimbabwean officials quietly lift blanket ban on hunting imposed after lion's death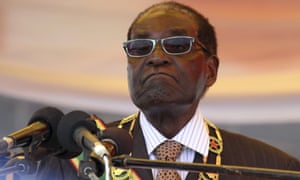 Zimbabwean president Robert Mugabe has expressed anger that his people failed to protect Cecil, the lion killed by a US dentist on an illegal hunt, from what he called foreign vandals plundering the country's resources.
The 91-year-old president made his first public comments about the big cat that captured global attention after Zimbabwean officials quietly lifted a blanket ban on hunting that was imposed in the wake of Cecil's death.
"All the natural resources are yours," Mugabe said in a speech marking Heroes' Day, a national holiday honouring fighters who died in the war to end white minority rule. "Even Cecil the lion is yours. He is dead but yours to protect, and you failed to protect him.
"There are vandals who come from all over. Some may be just ordinary visitors, but there are others who want to vandalise, to irregularly and illegally acquire part of those resources."
He added: "All this wildlife is yours, we should protect them. They should not be shot by a gun, it's a sin. Or an arrow. I was stopped from killing animals with an arrow when I was seven or eight years old. I was told: 'These are God's creatures'."
A Zimbabwean cabinet minister has called for the extradition of Walter Palmer, the dentist from Minnesota who paid $55,000 (£35,000) to shoot the lion that turned out to be Cecil with a bow and arrow just outside Hwange national park in western Zimbabwe. Palmer claims that he relied on his professional guides to ensure the hunt was legal.
Mugabe's outburst received support from a leading safari operator. Beks Ndlovu, founder and chief executive of African Bush Camps, said: "I would agree we failed, the system failed, to protect Cecil. That is why the government is putting stringent measures in place at parks now."
Advertisement
Zimbabwe's government has previously been criticised for neglecting national parks and failing to tackle the scourge of poaching. A nationwide ban on the hunting of lions, leopards and elephants was hastily imposed on 2 August following worldwide outrage over the killing of Cecil. But last week the ban was scrapped, with exceptions in certain areas.
A statement from the Zimbabwe Professional Hunters and Guides Association said: "We are pleased to inform you that, following some useful discussions between operators and the relevant Zimbabwean authorities, the suspension has now been uplifted throughout the country."
Lion hunting is still banned on the Antoinette farm where Cecil died in early July, on another farm where a second lion was recently illegally hunted, and in two other areas, the association said. Zimbabwean authorities also appear to have banned all hunting of "collared iconic animals"; Cecil was wearing a GPS collar as part of a research project that Oxford University has been running since 1999.
Ndlovu commented: "It was always going to be a temporary ban, a reaction to the illegal killing of Cecil. The government wanted to send a message to the hunting industry: do they want to act responsibly? But now it is saying it recognises there is a hunting industry in this country: they don't want to punish everybody because a few people acted illegally."
About 12% of Zimbabwe's GDP derives from tourism and 2% from hunting, Ndlovu continued, and in some countries a ban on hunting has led to an increase in poaching. But, he said: "My personal opinion is that there should be no lion hunting. To hunt lions for sport in this day and age? It's the 21st century."
Advertisement
Johnny Rodrigues, chairman of the Zimbabwe Conservation Task Force, condemned the government's decision and claimed it would benefit landowning cronies of Mugabe. "I'm disappointed because the hunters have a big voice in this country and are claiming sustainable use, but a lot of money goes to the landowner and only a small percentage goes to conservation," he said. "I still want a total ban, or a moratorium, on hunting endangered animals because they're going to suffer."
There are five or six American hunters in Zimbabwe at this very moment, Rodrigues added, and the task force is calling on the UN security council to investigate. "Cecil did not die in vain. We're going to continue to push it."
Hunting is generally banned in all the country's state-owned parks, although it has been permitted for so-called ration-hunting, when game is killed to feed rangers and other government workers or for national events.
Last week, the trial of Theo Bronkhurst, the leader of the hunting expedition that killed Cecil, was postponed until 28 September to give his legal team more time to prepare their defence. Bronkhurst has been charged with failing to prevent an illegal hunt and, if convicted, faces up to 15 years in prison.