Company uses last resort emergency powers for first time, only lifting request after 40MW of extra power made available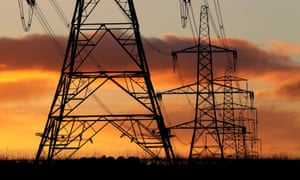 National Grid has for the first time used "last resort" emergency powers to tell companies to reduce their electricity usage in an effort to avoid the risk of blackouts.
It asked firms to reduce their power demand immediately, issuing a so-called demand-side balancing reserve (DSBR) notice to companies that have signed a contract to say they will take part in the demand reduction scheme.
A spokesman said this measure had never been used before, while the grid has previously said it would "only be used as a last resort, after all other actions available in the market have been exhausted".
Earlier on Wednesday, National Grid issued an urgent request for energy companies to make more power available after multiple breakdowns at UK power stations.
Power firms were asked to supply an extra 500 megawatts (MW) between 4.30pm and 6pm, a period when power demand surges, with some people still at work and others arriving home and turning the lights on.
Severn Trent sold power to the National Grid at £2,500 per megawatt hour during the afternoon, industry sources confirmed, compared with the typical price at that time of about £60.
National Grid issued the original request by sending a "notification of inadequate system margin" (NISM), a warning that there was not enough power in reserve to keep the lights on in the event of an unforeseen emergency.
Shortly before 6pm, National Grid issued a further statement saying suppliers had responded to its urgent request and 40MW of extra power had been ordered, so the NISM had been withdrawn.
Advertisement
"This is one of the routine tools that we use to indicate to the market that we would like more generation to come forward for the evening peak demand period," the company said.
"The issuing of a NISM does not mean we were at risk of blackouts. It means that we needed the safety cushion of power in reserve to be higher."
A NISM is not the strongest warning National Grid can issue. It falls below a high risk of demand reduction (HRDR) and the highest level, a demand control imminent (DCI) warning.
Although it insisted there was no threat of imminent power cuts, this was the first NISM to be issued by National Grid since 2012; there were 10 in 2005 and eight in 2008.
At the time it issued the NISM notice, National Grid was forecasting peak demand for Wednesday night to be 48,275MW.
The company initially played down the significance of the NISM, but it later used the DSBR, which is targeted at large energy users who volunteer to reduce their energy demand in exchange for a payment.
Energy analysts at stockbroker Jefferies said that while the National Grid's warning could have been just "one of those things", it could be a sign of system stress as coal-fired power stations close.
"It is self-evident that the UK power system is under increasing stress. Eventually that stress will manifest itself via security-of-supply events," the company said in a note.
The disruption will add to fears that a particularly cold winter could trigger power cuts, damaging the economy and leaving people in the cold.
National Grid said last month it had the right tools to avoid blackouts this winter, which has been predicted to be unusually cold. Its contingency plans include the DSBR and the supplemental balancing reserve (SBR), asking energy companies to keep mothballed power plants on standby.
The company said on Tuesday that its chief executive was stepping down after 10 years. Steve Holliday will be replaced by National Grid's UK executive director, John Pettigrew.