Ryedale district council calls for five-year fracking ban in reponse to a consultation on Third Energy's application to drill for gas in the area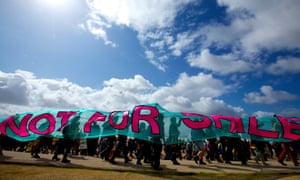 Councillors in North Yorkshire are facing fresh pressure to reject a fracking bid after a district council called for a five-year moratorium on Thursday.
Ryedale district council (RDC) does not have the power to rule on the planning application made by gas firm Third Energy, which wants to frack a well near the village of Kirby Misperton to test if it is commercially viable.
North Yorkshire County Council (NYCC) will ultimately make the ruling, having launched an eight-week consultation in August. RDC is one of the bodies responding. On Thursday, the majority Conservative council passed the motion with a majority of 13 votes to seven, with several councillors abstaining.
Liberal councillor Tim Thornton said that public opinion in the area is strongly against fracking.

"People in Ryedale are beginning to see that we are in a sacrifice zone. There is a lot of concern that we are about to industrialise a rural, beautiful area of the country and the only reason for it is to put money in the exchequer's pockets," he told the Guardian.
He added that the council was "swayed" by an anxiety about the potential for "a raft of health impacts" although there were other concerns about the impact of fracking on tourism, agriculture and produce in the area.
NYCC must announce its decision by mid-November or face the threat of intervention by central government.
Third Energy said in a statement: "There are no grounds for the Ryedale district vote. Respected and internationally respected bodies and experts, including Public Health England, the Chartered Institution of Water and Environmental Management, the Royal Society and the Royal Academy of Engineering have all concluded that the risk of fracking can be managed in a well-regulated environment, which we have in the UK.
"Gas has been produced safely and securely in Ryedale for over two decades. We trust that the NYCC will consider all the facts before it makes its decision. We will continue engaging with the local communities to inform them of the plans and how any potential risks are managed to ensure minimum impact to the public and the environment."
The only other firm in the process of applying for planning permission to frack is Cuadrilla, which is appealing a decision by Lancashire county council which rejected their bid in June on the ground of noise and visual impact.
The government later announced it will offer licences to companies to frack in Yorkshire, the north-west and the east Midlands, among other areas. Many more areas believed to be ecologically sensitive are currently being assessed for environmental impact.