Coal-reliant country may be trying to slow the rise of renewable energy with a clampdown on turbine construction and maintenance, say analysts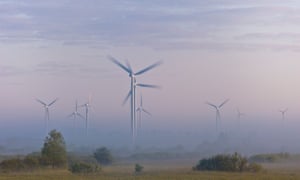 A draft Polish law that would impose a raft of exacting demands on windfarm developers is nothing less than a bid to sabotage the country's renewable energy prospects, according to Europe's wind industry.
Developers would need to apply for a license to operate a wind turbine every two years under the proposal, which the Guardian has seen.
If they wanted to repair or modernise a turbine, they would first need to get permission from an inspector's office. Then they would have to pay a significant fee, and reapply for another permit.
Operators who repaired or modernised installations without permission would face hefty fines and up to two years' imprisonment.
Coal-reliant Poland has a reputation as a regressive player in Europe on climate change but actually has more wind power than Denmark, with twice the current installed capacity forecast to be added by 2030.
Oliver Joy, a spokesman for the European Wind Energy Association said: "This draft law is a detailed plan to shackle the industry's prospects in Poland. It has been designed to stop deployment and will likely damage investor confidence. It is a very concerning development, particularly for a country that was one of Europe's strongest performers last year."
Turbines will also have to be built up to 2km from the nearest house or forest – to prevent ice falls from rotor blades – if Poland's parliament backs the bill. It is sponsored by MPs from the Law and Justice party, which won last year's elections and is sceptical on the science of climate change.
"We believe that minimum distances of wind power stations from developed properties and nature protection forms should be standardised by means of legislation to minimise their potential impact on humans and environment," a spokesman for the environment ministry told the Guardian.
Analysts say that the new bill's sponsors may be trying to push back the rise of renewable energy by piggy-backing on recent anti-wind power protests. These were targeted against new developments by state-owned utilities that were allegedly approved without public consultation, in disputed circumstances.
"It seems likely that [the MP's] are trying to prevent new wind developments from happening, which may be due to the fact that they want to prevent competition with coal," said Tobiasz Adamczewski, an energy expert at WWF Poland.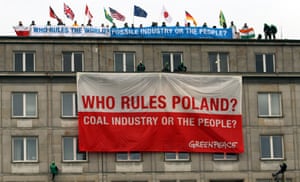 The Law and Justice government views talk of decarbonisation – or freeing economies from fossil fuels – as a "heresy", and hopes to weaken the EU's pledged 40% emissions reduction cut by 2030.
Advertisement
At an environment ministers' meeting in Brussels tomorrow, Poland will push for its carbon-cutting obligations to be measured in 'removal units' rather than reductions, according to a ministerial note seen by the Guardian.
This would allow the country to count carbon temporarily sequestered from trees that have not yet been cut down.
At the same time, Poland is locking horns with the European commission over plans to rescue highly unprofitable coal plants, which could fall foul of state aid laws. In this context, the clampdown on wind turbine construction rules could stir internal dissent.
Julia Michalak, an analyst for the Polish Institute of International Affairs said the proposed law would likely propel Poland's energy policy even further away from the mainstream EU agenda.
"Diversifying Poland's coal-dominated energy mix by increasing renewable's share is necessary – not only to meet EU targets, but also to strengthen the country's energy security which is endangered by an increasingly unreliable power supply infrastructure," she said.