Leaked letter reveals three ministers said they would work to ensure that protections for national parks and sites of scientific interest would not create barriers to shale gas exploration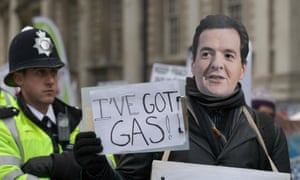 The government has made it a "top priority" to ensure protections for national parks and sites of special scientific interest do not obstruct fracking across the country, according to a leaked letter from ministers.
Fracking in both protected areas was ruled out by the government last year, in the Infrastructure Act, although campaigners pointed out that companies could still drill vertically outside park boundaries and then horizontally beneath them.
But it appears ministers are working to ensure that even those limited protections do not get in the way of fracking companies.
"One of our top priorities will be to examine what work is required to ensure that the safeguarding provisions in the [Infrastructure] Act do not inadvertently create fresh barriers to exploration and to minimise the delays that the requirements in the act have introduced," three ministers wrote to the chancellor, George Osborne.
The letter, dated 7 July 2015 and signed by Liz Truss, the environment secretary; Amber Rudd, the energy secretary; and Greg Clark, the communities secretary, was obtained by Friends of the Earth.
It shows that just days before the government laid draft regulations for the protections in parliament, with ministers on 16 July promising "world-class environmental protections", they were privately saying they would work to ensure they did not cause problems for industry. The regulations were later passed in December.
Tony Bosworth, energy campaigner at Friends of the Earth, said: "Even before ministers had published the regulations supposedly protecting our most beautiful landscape and wildlife sites from fracking, they were writing that it was a priority to make sure this didn't hamper or delay the industry. The government's public line is very different to its private view."
Advertisement
A Department of Energy and Climate Change spokesman said: "We have the right protections in place to ensure that fracking can go ahead safely without risk to our most beautiful and important natural sites, while striking the necessary balance to ensure that this vital industry can develop."
The letter also revealed that ministers are considering designating shale gas wells as "nationally significant infrastructure projects", which would take planning decisions out of the hands of local authorities, to be made by officials at the Infrastructure Planning Commission instead.
However, the three ministers admit that introducing such a change before exploratory wells are drilled and shown to be safe, could undermine public support for shale.
Shadow energy secretary, Lisa Nandy, said: "These latest revelations show that ministers are intent on imposing fracking on communities against their will, regardless of the consequences for the environment. Government should act in the interests of the whole country, not just the fracking industry."
Pat Davies, chair of the anti-fracking Preston New Road Action Group, said: "This latest travesty from Westminster seems to be an attempt to predetermine outcomes in relation to fracking, irrespective of local community wishes."
Last year shale gas explorer Cuadrilla suffered a major blow when Lancashire county council rejected fracking at Preston New Road and Roseacre Wood, near Blackpool, leading ministers to later promise they would "fast track" fracking applications. Cuadrilla's subsequent appeal will be heard next week.
A separate decision on a fracking application by Third Energy at Kirby Misperton, a village in Ryedale, North Yorkshire, was due on 9 February but has been delayed until March at the earliest after North Yorkshire council asked the company for more information.
"We continue to endeavour to meet the earliest planning committee meeting we can for a determination," the council said in a statement.
The government letter shows that ministers hope for exploratory fracking wells to be up and running by 2017, with production following by 2020 and a "maturing industry" established by 2025. Just one exploratory shale gas well has been fracked in the UK so far, at Preese Hall, Lancashire, in 2011.